Forged Balls For Cooper Mining
Forged Balls For Cooper Mining
HY

China

20-45 days

50000T
Our Forged steel Grinding balls produced by advanced automatic rolling machine ( Balls from 20mm-70mm) + Labor Air Hammer ( 80mm-150mm) with special Heating treatment and strict quality control systerm , which make our grinding balls high performance

Grinding balls 'Raw Material Purchase : Strategic partnership with standard steel enterprise and sign the long term agreement (50,000 Tons annually ) Purchase directly from Chinese famous standard steel enterprise , such as laigang Group, HBIS, ANSTEEL, XIWANG Special steel .

We have special department of QC teamwork .The QC department director have 10 years experience in this industry . The team is responsible for inspection during production , inspection before delivery .( Forged Steel Grinding balls Surface and core hardness test each day each batch and all will be recorded and filed in documents ) .
Jinan Haoyang Casting & Forging Co., Ltd. est l'un des principaux fabricants de supports de broyage en Chine. Nos produits sont conçus pour le broyage des matières premières par les cimenteries, les entreprises de production d'énergie, les installations de traitement du minerai et industrielles, les usines de matériaux de construction situées en Chine. . L'usine de fabrication de billes d'acier de Haoyang a été mise en service en juin 2008. Aujourd'hui, nous répondons aux besoins grandissants des consommateurs en ce qui concerne les propriétés opérationnelles des supports de broyage, ce qui affecte directement les prix et la qualité des broyeurs à billes, l'efficacité des équipements et l'entreprise en général.
China is the world's largest grinding media balls supplier . How to choose any better grinding media balls supplier in China ? We are trying to provide a different answers for your esteemed buyer .
---------------Trustworthy Product and Partner ( Grinding Balls Supplier in China )
Honest ppl , excellent quality ,reasonable price and best service enable Haoyang to be the trustworthy supplier of many customers from America, Canada, Chile, Korea and some other countries in the world specialize in the Cement, Mining ,Power plant and any other related industries on a global scale.

-----------Mature and innovative technology
Technical director of HY have been in the industry of grinding balls for more than 30 years with rich experice and all the technical team are professional workers in the forging industry to study the grinding media improvement and heating treatment technique for different industries.Focus on research and development, our grinding media balls quality have got reputable recognition from Gold Mining , Cooper mining , cement plant and any other related industries.
--------How to improve wear resistance of grinding balls to help you lower the cost
>Customized Raw Materials-Purchasing qualified raw material from China famous and standard Steel mills. The quality of the grinding steel balls is directly related to the raw materials. The chemical composition elements matching plays a key role in the performance of the grinding steel balls. Each batch of steel into factory willbe reinspected and consistant with steel mill certification.All the batches of qualified steel will be recorded in file and could be tracked via Heating Number during 5 years.
>Advanced Hot rolling production line and traditional labor forging combination enable all the specification from DIA20-150mm grinding balls could be supplied by HY , keep the stable grinding efficiency .
>Unique Heating treatment technique greatly influence grinding balls quality. Improve the surface and volume hardness , Hardness uniformity and toughness
>Strict Quality Control Systerm will be followed by each order during production and after production . Our Quality control Systerm will enable nearly 95% balls will be inspected before loading on board , lower your purchasing risk .
Improving surface hardness , volume hardness, impact toughness ,wear resistance and lower the breakage rate will lower your consumption cost in mining or other industries . Protect your profite and core values under such tough world market enviroment .which is our mission !
-----------Experience in servicing overseas customers
Forged Grinding balls chemical composition :

Brand
Remarks
Chemical Composition (%) of Raw Material
C
Mn
Cr
S
P
Si
Hardness
HY-1
60Mn
0.57-0.65
0.7-1.0
《0.25
Max0.030
Max0.030
0.17-0.37
58-60
HY-2
65Mn
0.60-0.70
0.90-1.2
《0.25
Max0.030
Max0.030
0.17-0.37
58-65
HY-3
75Mn
0.72-0.92
0.90-1.2
《0.25
Max0.030
Max0.030
0.17-0.37
55-65
HY-4
B2
0.72-0.85
0.7-1.2
0.42-0.85
Max0.030
Max0.030
0.17-0.37
60-65
HY-5
B3
0.5-0.65
0.4-1.0
0.77-1.10
Max0.030
Max0.030
1.4-1.8
60-65
Dimension Series :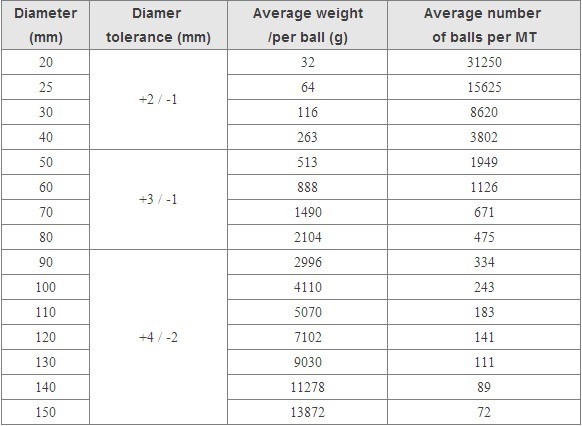 Grinding balls Production Process :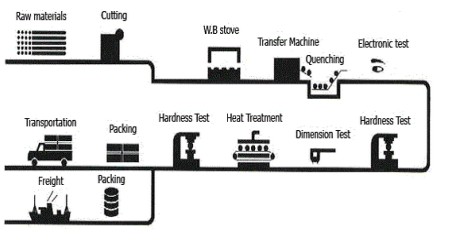 Packing of Grinding Media Balls
The grinding balls to be packed in steel drums with openable top or bulk bags.The plastic bags should be of good quality with 5:1 safety ratio .Drums or bags packed on pallets made of heat treated wood or plywood.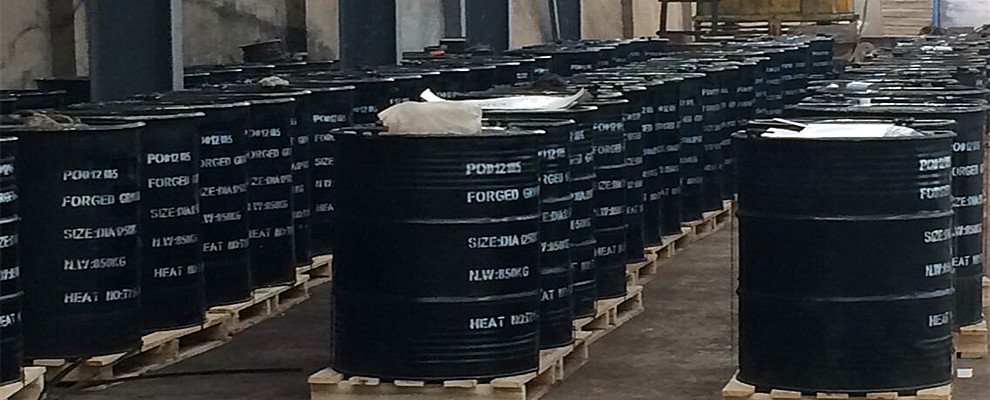 Why choose us ?
1. Strategic Partnership with standard steel enterprise and sign the long term agreement ( 50,000 Tons Annually ) Purchase directly from Chinese famous standard steel enterprise , such as Laigang Group , HBIS, ANSTEEL , XIWANG SPECIAL STEEL .
2. Our vice Director Mr Chen as the grinding balls' technology specialist is personally responsible for the steel purchasing . (Negotiating , Sign Contract with steel company , Steel elements Matching confirmation and inspection
3. Stable Delivery time
4. Each batch steel label will be taken photo and recorded ( Steel company name, Description of goods , Specification , Steel Grade, Heat Number , Production Date and etc.. ) for Tracking in future 5 years !
5. The steel will be inspected by spectrograph When into our factory
If there is any problem with the chemical composition , all the steel will be returned back to steel company
6. Information exchange of Steel price tendency
Cooperation case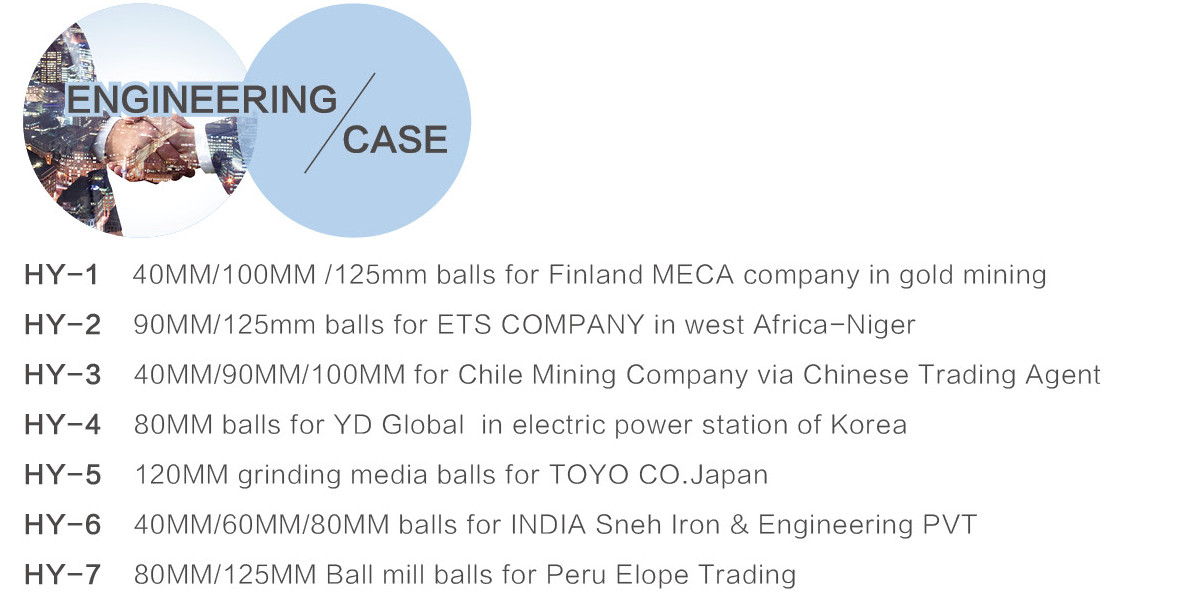 Haoyang manufacturing grinding balls of European quality :
Jinan Haoyang Casting & Forging Co.,ltd is one of the leading grinding media manufacturer in China .Our products are designed for grinding of raw materials by cement plants, energy generating companies, ore mining and industrial processing facilities, construction materials plants located in China . Haoyang steel balls manufacturing plant was put into operation in June 2008.Today, we deal with continuously growing consumer requirements for operational properties of grinding media, what directly affects ball mill prices and quality, efficiency of equipment and the enterprise in general.
The plant was built using the most advanced equipment. Through the use of modern technologies and cooperation with a number of research organizations, we managed to achieve very high levels of quality in grinding steel balls. Despite its short history, Haoyang managed to become a manufacturer of quality grinding media for ball mills, as well to keep its position on both the domestic and overseas markets .The operational properties of steel balls produced by Haoyang allow to significantly reduce the consumption of grinding balls and power, to increase grinding fineness of raw materials, to decrease the number of mill repairs and, consequently, to increase their productivity.

L'usine a été construite avec les équipements les plus avancés. Grâce à l'utilisation de technologies modernes et à la coopération avec plusieurs organisations de recherche, nous avons réussi à atteindre des niveaux de qualité très élevés en matière de rectification de billes d'acier. En dépit de sa courte histoire, Haoyang a réussi à devenir un fabricant de supports de broyage de qualité pour broyeurs à boulets, tout en maintenant sa position sur les marchés national et international. Les propriétés opérationnelles des billes d'acier produites par Haoyang permettent de réduire considérablement la consommation de broyage. balles et puissance, pour augmenter la finesse de broyage des matières premières, pour diminuer le nombre de réparations de l'usine et, par conséquent, pour augmenter sa productivité.